California Zephyr: Denver to Sacramento | Capitol Corridor: Sacramento to Emmeryville | Thruway Bus: Emmeryville to Santa Clara
This is the last part of my 6-part series covering an 11-day Amtrak trip around the western United States in May of 2006. Be sure to read about the planning and start of my journey from San Luis Obispo to Los Angeles in Part 1 the trip from Los Angeles to Chicago in Part 2, Chicago to Essex in Part 3, Essex to Sacramento in Part 4, and Sacramento to Denver in Part 5.
Denver to Sacramento

I woke up in Denver at 5am on Friday, May 12th and was out and about by 6:45. This would be the last day of my 11-day train trip and I'd be traveling west, back across the Rockies and Sierras to meet up with my brother in Santa Clara, California.
It was a half hour walk to the train station, where I boarded the westbound California Zephyr at about 8am. The conductor collected our tickets and handed out boarding passes in the train station. I was glad to see that we were not assigned seating so I could pick my own seat, but the car was already full and there were no solo seats available. I found a guy who was sitting alone and only going as far as Salt Lake City and put my backpack on the rack over his seat. He moved out of the way to give me access to the seat next to him, but I told him not to worry because he probably wouldn't see me for the rest of the trip. We'd be arriving at Salt Lake that night at around 11:30 and I figured that by the time I would be ready to sleep he'd be gone. I went forward to the lounge, and when I returned hours later for a battery recharger he was surprised to see me and said "are you still on the train?"
We climbed over the Rockies once again, and even though I was in the same place the day before it was like a whole other trip when going the opposite way. Sitting in a different seat, and looking at different things, it didn't feel like it was a repeat of the previous day at all. We entered the Moffat Tunnel at 10:09am came out nine minutes later on the other side of the Continental Divide. Then it was a stop in Granby and on through the Upper Gore Canyon at around 10:40. Like on the eastbound train over the Sierras in California, they had a narrator pointing out the sights along the way. There was a trail carved into the granite wall along Gore Canyon. It was an old surveyor's path from the turn of the 20th century, when one of the railroads decided to dam the river so no competing railroads would be able to build a line through the canyon. That plan obviously fell through because, well, here we were.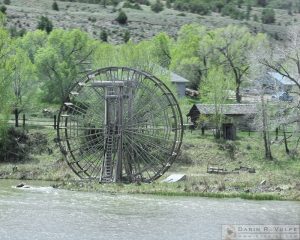 I'd marked a couple of spots on my GPS that I wanted to photograph again on the return trip. The big water wheel was one of them. I've since learned that it's called the Brooks Water Wheel and located in the town of McCoy, Colorado. It was built in 1923 by the rancher who owned the property. There used to be a trough at the top where the water that the wheel had lifted 45 feet above the Colorado River would be dumped to flow to irrigate his fields. This would have been a great place to stop and get off the train for photos, but of course you can't do that.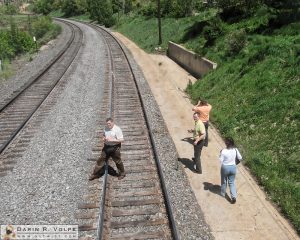 I walked to the last car on the train to get some views from the back window. The Southwest Chief had a railway express car at the end and the Empire Builder had the sleepers in back so it wasn't possible to go back and see anything on those trains, and I had spent all my time on the Coast Starlight socializing and didn't make it to the end car on that train either. The last car on this train was a coach that was occupied by a British tour group who'd traveled from New York through Chicago and were on their way over the Rockies. They were going as far as Glenwood Springs, where they'd catch a bus that would take them south to the Grand Canyon. I talked to a couple of them for a while, which was an interesting cultural exchange for all of us. One of them told me that his was an engineer for Land Rover, and he had a patent for the front axle design on all the new Land Rovers at the time. We talked for a while, then I went back forward. I returned to the end car in Glenwood Springs and it was deserted. I saw some of them walking over the tracks behind the train though the back window.
I didn't leave the train when we stopped in Grand Junction because the schedule shows it as a normal stop and nobody announced that it would be a smoke stop (which is where they linger a bit to allow passengers to leave the train for a cigarette.) It turned out there was a fruit and vegetable stand there, and lots of passengers and crew were buying fresh fruit and vegetables. There was an old depot in Grand Junction, a sad sight that was falling apart surrounded by a chain-link fence. Too bad, because it's was interesting looking building. By the time we pulled out and I was going to take a photo of the fruit stand they had already closed it down, and it was nothing but a boarded up building.
I went back to the end car again after leaving Grand Junction. I expected it to be locked up since the British group deserted it, but I got lucky and it wasn't. I had the whole car to myself. Even though I had passed through these same canyons just the day before, the landscape looked totally different from this perspective.
Dinner was steak with rice. I'm going to miss the rice they serve on Amtrak. I don't know what they do to it, but it's some of the best rice I've ever had. The steak wasn't bad either. I honestly can't remember who I had dinner with that night. I can tell by listening back to the recordings I made on the trip that I was really tired by this point. I was recording less, there are less details, and I can hear it in my voice that I'm half-asleep.
We got to Salt Lake City late, probably by a couple of hours. I stepped off the train for a while and then made my way to my seat to go to sleep. The guy who was there when we boarded in Denver had gotten off the train as I knew he would, so I was able to take over the whole seat.
Morning came in Nevada while we were still quite a way from Winnemucca. This let me see the wetlands that were unexpectedly in the middle of Nevada. I was told that a river comes down from the Sierras, and when it hits the flatlands of the desert it just spreads all over the place. It's really quite interesting to see water spread out across the Nevada desert. I had my last meal on the train that morning, the Bob Evans Breakfast Scramble – eggs scrambled with sausage & cheddar and served with pancakes. It was good, but not nearly as good as the basil, oregano, and tomato eggs I had before.
We hit Reno at 12:30pm, back in Pacific Time and three hours, forty-five minutes behind schedule. From there it was back to the mountains as we crossed the Sierras and crossed into California. There was still snow in the mountains, and there were creeks everywhere as the frozen water melted. Of all the trains I'd taken on this trip, the Sierras were the best as far as scenery went. I don't know if that's just because there was snow on the ground or what, but it was even better than the Rockies in Montana or Colorado.
As we came down from the Sierras, it was obvious that I was going to miss my connection to San Jose in Emeryville. I was downstairs in the lounge when the the conductor came in. I asked her about it and she was quite annoyed that I didn't hear her announcement on the PA. She went off to fix the speakers and make another announcement. I told the lounge attendant that on six trains, none of them had announcements in the lounge. I was given the option of getting off the train in Sacramento and picking up the commuter train there, or taking the Zephyr all the way to Emeryville and catching it there. I decided I'd rather kill two hours in Sacramento than Emeryville, so I got off in Sacramento.
I should have stayed on until Emeryville. I was out shooting photos of the artwork in front of the Federal Courthouse when a security guard came and made me stop. Remember, this was in 2006, only about four years after terrorist attacks of September 11th, and paranoia was still running high. Luckily I'd already taken all the photos I planned to, but to be told that I can't take photos of a public building in a public place has a way of infuriating me. It put me in a bad mood for the whole two hours I spent in Sacramento. I walked around for another ten minutes, but was so angry that I just went to the train station to kill time there. It was really nice to know that the best way to keep terrorists from destroying our way of life in America is to do it ourselves. I could go on, but this is a travelogue, not a political page. Even after almost fifteen years it still infuriates me when I think about it.
A Final Note
The Capitol Corridor train left Sacramento that night to arrive in San Jose somewhere around midnight. Since the late train ended in Oakland and we'd transferred to a bus that had a stop in Santa Clara (where my ride home lived), I my trip ended at Great America Park.
I was quite tired by the time the trip was over. I'd traveled 8088 miles by train according to the Amtrak timetables (a few more if you count the bus ride,) traveled through seventeen states, and changed time-zones six times. I'd gone from the Pacific Ocean to Lake Michigan, Los Angeles to within 25 miles of the Canadian border. I'd walked miles in Chicago, got stuck in a snowstorm in Montana, and was chased off the Federal Courthouse grounds in Sacramento. It was a fantastic trip!
California Zephyr: Denver to Sacramento