This story is from a nine-day trip to Costa Rica in 2010
I traveled to Costa Rica in March of 2010 to meet up with my 86-year-old mom. She had flown there a few months earlier to visit family and I was going to escort her on the flight back to the USA. It was supposed to be a short and uneventful trip with a bit of exploring, but as often happens, things didn't go as planned.
The trip started at San Jose International Airport in California on the morning of Friday, March 19th. Eleven hours and a stop in Dallas later I was in San Jose again, this time the one in Costa Rica. A 2nd cousin (or was it 3rd – sometimes I lose track) picked me up at the airport and drove me to one of my many other cousin's house in the Guadalupe barrio of San Jose. I was treated to my favorite dinner of beef tongue cooked in tomato sauce (yes, I can hear the "eeewwwwww" all the way from here) and then I settled in for the night.
The next morning, my cousin and I walked to the local farmer's market to shop for fruits and vegetables. The market was huge, a place where farmers from all over the region would bring their crops to sell. My cousin loaded up her wheeled basket and we returned home for breakfast. Then my mom and I were off to yet another cousin's house, this one in the mountains about ten miles southwest of the city as the parrot flies, where I would spend the rest of my time in Costa Rica.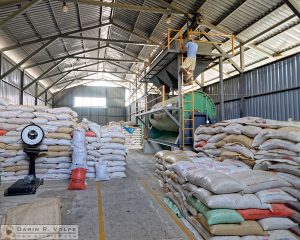 On Sunday day we toured a small coffee plantation and processing plat near her house, then drove to a little town called Caragral. Caragral consisted of a dozen or so houses on a property that once belonged to a creamery. Although the creamery was gone, there were still a few cows to be seen around the town. They were having a big party for what seemed like the whole region that day, so there were a bunch of people from the surrounding area there. At least one of them arrived in an old Toyota Land Cruiser. I remember Land Cruisers being everywhere when I visited Costa Rica in the '70s. Almost 35 years later, they're still everywhere. We stopped in the town's tiny two-room schoolhouse and spent some time talking with the teacher. The school served first through sixth grades – even though there were currently only five students that attended. Some grades had more than one student, others had none.
We had lunch in Caragral and returned to my cousin's mountain home for the night. So far, so good.
Los Quetzales National Park
On Monday, things got more interesting. We all decided that I should have an outing to explore one of the national parks in the area. I would drive, and Oscar (my cousin's helper) and Rafael (a neighbor who works at the coffee plantation) would assist with navigation. We drove to the the southeast into the countryside in search of the park. There are very few road signs in Costa Rica compared to the United States, and it was soon apparent that my navigational assistants were less familiar with the route than I originally expected. And so, after driving through a couple of towns, we stopped for directions. Guided by some locals, we continued on our way until we reached what we thought was the park. We stopped in at the visitors' center/restaurant and were told that a tour group had just left, and we would be able to catch up with them just up the trail. We hiked around the jungle for an hour or so but never found the group, and upon leaving the park we discovered we were in the wrong place. This wasn't the national park we were looking for. So back into the car we went and continued up the road.
Soon we arrived at el Parque Nacional Los Quetzales.We signed in at the ranger station and were told that a walk around the park would take about four hours. We decided we'd follow the trail for a while, but a four hour hike was more than we wanted so we would not go the whole way. Another ranger led us to the trailhead. As we were walking he said "I don't know why that other guy lies to people, it's really only a two hour walk." So we got to the trailhead and left the ranger behind. We followed the uphill path into the forest and were soon at a fork in the trail. We picked the smaller trail to the left and in a few minutes arrived at a sign announcing that a destination was nine kilometers (about five and a half miles) ahead. After following the trail for about half an hour we stopped to discuss our plan. Oscar wanted to continue, insisting that "these trails all come out in a loop." I pointed out that they might come out, but if it didn't come out near where we wanted to be it would be another nine kilometers back. Rafael voted with me, and so we turned around and back to the main trail we went.
Hiking through the Costa Rica jungle. Apologies for the quality, my camera was a point and shoot limited to 848×480 video.
Our choices now were to go right and back to the car, or continuing left on the main trail. Oscar wanted to hike the whole way. Rafael wasn't too excited about going any farther. I suggested we keep going to explore a bit more, but not try to go all the way. Rafael agreed, and so we continued as the trail turned from uphill to downhill through the jungle. And so down the hill we went. And down. And down some more. After a while I started thinking that we've been going downhill a heck of a lot more than we went uphill, and not long after Rafael said the same thing. We decided that as long as we'd gone this far, we might as well keep going and complete the loop. After all, the ranger said it was about two hours and we'd already walked about half that. And so we continued. After hiking through the jungle for what seemed like hours, but was probably only another hour or so, the trail ended at a road. Left was more downhill. Right was up. Figuring that we've been going down for over an hour, we decided to start walking up the road. That's when the rain started.
Now, just because it's the "dry season" doesn't mean that the rain will be mild. It also doesn't mean you'll get the lovely tropical "it's raining, but it's OK because it's warm" kind of rain. No. We were up in the mountains, and it was freezing cold. And the rain just seemed to come down harder and get colder. Even better was the strong headwind that blew the rain straight into our faces. Now, I'm always looking at the bright side of things. My perspective was that a walk through the jungle would just be a walk through the jungle, but walking through the rain, uphill, for Lord knows how long, would be one of those things that would be a story retold years later. That philosophy worked for about an hour. We were all all soaked. Oscar, who was a ball of energy, plowed ahead at full speed. Rafael was in the middle, plugging along. I was in super-slow-mo. Step. Step. Step. I didn't know how long this walk would be, and I wasn't planning on tiring myself out any more than I already was. Eventually Oscar slowed down and kept me company. Rafael would burst ahead, then rest while we caught up, then go ahead again. I just kept plodding along at a constant rate. If I stopped to rest, it would be really hard to continue.
Then we heard the car. It was coming up the hill behind us. We were rescued! Or not. It just passed right by us. Ugh. Keep walking, soon we will be at our own car. We came across someone walking down the hill in the opposite direction and towards us. As we passed, we asked him how far to the parking lot. "About two hours." Lovely. Eventually another car came in the direction we were walking. This one was full of people, and again did not stop. What does it take for someone to pick up three guys walking up the hill in the freezing rain??? Up. Up. Up. I was soaked. My camera bag was soaked. I didn't even want to look inside. My hands were white. I'd slipped about five times on the wet leaves in the jungle train and my elbow was in pain. We eventually caught up to Rafael who told us that we'd almost arrived. We could hear the cars on the main highway now, so it couldn't be much farther. Then we at the parking lot, cold, wet, and tired. We got into the car and headed homeward, stopping at a roadside cafeteria for dinner. I even had coffee, and I don't even drink coffee. (Starbucks mochas do NOT count as coffee.) Food was warm, so we got more. Coffee was hot, so I got another cup. It was nighttime, and we returned home with a story I'd be telling for at least eleven years.
Driving to the Beach
Driving National Route 301 from San Ignacio to Parrita. Apologies for the quality, my camera was a point and shoot limited to 848×480 video.
The plan for Tuesday was a drive to the coast. This time it would be me, my mom, one of my aunts, and Oscar. We had a driver that was going to take us, but he didn't show up and it was already getting to be about 9am. I hadn't been to excited about driving in Costa Rica (everyone drives like a maniac,) but after the previous day's drive I was ready and so we left without him. We followed a dirt road through the mountains that passed by several ranches and villages, and eventually made it down to the coastal flatlands. A couple of hours later we were in the town of Parrita, where we fueled up the car and headed north to the town of Jaco.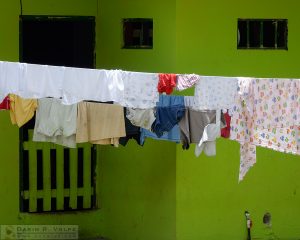 I had fond memories of Jaco. My family had visited the town on a previous trip to Costa Rica back in the mid 1970s. We had chartered a little plane, probably a six seater, out of San Jose and it landed right on the beach in front of our bungalow. I didn't expect it to be anything even remotely similar, but I wanted to see the town anyway. Of course it had changed and was now Tourist Trap Central. We walked around a bit and stopped in some gift shops, but I wasn't going to buy anything from a shop that marked its prices in US dollars. And so after we had walked past shops selling things like wicker motorcycles, and after saying hello to an iguana wandering through town, we got back in the car to drive up the coast some more. I was thinking it was early enough to make it to Puntarenas in the northern part of the country, another town that I had visited those many years ago.
Lagartos!
We drove up the coast and got to a bridge with a sign announcing: "Lagartos" – Big Lizards. There were cars parked all around and when we crossed the bridge we found a restaurant. We parked the car there and figured we'd eat after checking out the big lizards. As we walked out onto the bridge, a scarlet macaw took off from a tree and flew overhead and into the distance. It was spectacular to see one of these beautiful birds in the wild. Down in the river below, American crocodiles swam in the water and basked on the shore. We were about half way across the bridge when Oscar, who had gotten ahead of us and crossed the road to the other side, told us that there were a lot of crocodiles on that side of the bridge.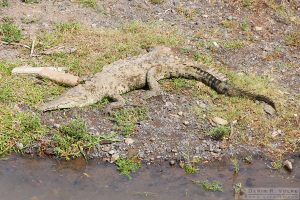 I looked both ways and waited until there were no cars in either direction for as far as I could see so it would be safe for my mom and aunt to cross. There was plenty of time, but my mom and aunt decided that they had to rush across the road. Big Mistake. Now, my mom was 86 at the time. My aunt just a few years younger. We were up on the sidewalk, and if you're expecting a US spec four-inch height curb then you're sadly mistaken. In Costa Rica the curbs are high. Like 12-inches high. So when my mom took a step off the curb (which was about the same height as from her foot to her knee) down to the street, her momentum kept the top half of her moving. She landed face first in the road. It was not a pretty sight. First on the agenda was to get her up and out of the road. We lifted her up and seated her down on the curb. She was bruised pretty badly and her teeth were hurting, but it was all bruise and only a minor cut on her eyebrow. We sat there for a while while she recovered from the fall, and a nice Costa Rican lady helped clean her face up with a towel. All the while, cars and trucks were blowing by two feet in front of us. Once she was ready to move, I left the group, got the car, and picked her up. It was time to go back home. We decided that the fastest way would be to take the "freeway" (loose term) into San Jose and Oscar would guide me through the city to the road leading to my cousin's house in the mountains. We made it back at around 4pm or so. My mom would see a doctor the next day, and I was asleep by 7pm.
I slept through most of the next day, and nobody was mean enough to wake me. My cousin took my mom to the see a local doctor. The news was that the visible bruising was no problem, but that she had a hematoma behind her eye and it would probably be best if she didn't fly home on Tuesday. This was a major complication. She had flown down with my aunt and a cousin from the US in January. He had already flown home and the whole point of my trip was to fly back with her. If she couldn't come back on Tuesday, then I couldn't come back on Tuesday. Luckily her teeth were OK, but her dentures were destroyed in the fall and they needed at minimum some major repair work. So Thursday would involve a trip to San Jose and to a dental technician friend of yet another cousin to see if they could be fixed.
Thursday morning we were off to the city. We briefly stopped at one of my aunt's houses to pick up yet another cousin to guide us to the dental technician's office. (In case you haven't figured it out, I have a heck of a lot of aunts and cousins in Costa Rica!) The tech decided almost instantly that there was no way to do repairs, but if she wanted a new set of choppers made he would work through the weekend to get them done by Monday. We agreed, so the mouth castings were made and back to the mountains we went.
The Perfect Day
Costa Rica Mountain Drive. Apologies for the quality, my camera was a point and shoot limited to 848×480 video.
Friday was another day. I decided that I was going to take the car all day and go exploring – just me, no guides. I printed out a couple of Google Maps of the area to have the major roads and some points of reference. To find my way home, I had my netbook with a GPS card and copy of Street Atlas USA on it. While it only had the major highways of Costa Rica on it, it did leave a trail of dots behind me which would be my breadcrumbs to finding my way home. My GPS device was also a logger, so I had a redundant system in case one failed.
I drove northwest through the mountains west of San Jose. Being on the other side of the mountain than the city was a completely different experience and I never knew until I looked on a map much later how close to San Jose I really was. I drove on narrow mountain roads though tiny towns. Water was abundant and there were many waterfalls along the way, many with a small statue of the Virgin Mary standing in a carved-out alcove behind the falling water. The traffic ranged from tiny dirt bikes that zipped around the corners to a full-size 18-wheeler that could barely negotiate the turns. At one point I had to wait for a truck that was blocking the entire road while the driver unloaded its cargo of cattle.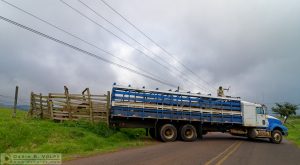 I stopped for a while in the town of San Pedro de Poas. This town had a large but simple church across the street from a small park. After a short walk and a couple of photos, I continued up the road until I ended up at the Poas volcano. It was 3pm. The national parks in Costa Rica closed at 3:30, so I didn't have a lot of time. It didn't really matter though, because I was up in the clouds and visibility only about 50 yards so there wasn't much volcano to be seen anyway. I got back in the car and kept on exploring the countryside until, at around 5pm, I decided it was time to start back home. I turned south, went to check my GPS track, and got hit with a Hansel and Gretel moment. It turned out that Street Atlas only kept a limited number of points of the track behind me. Like the German children who decided to eat a poor old lady's house out from under her, I found myself with no breadcrumbs home. I wasn't too worried because I knew I had the GPS log and would be able to download it into Street Atlas if I had to, plus I had the Google map printout. Right now, I just knew that if I kept my compass pointing south, I'd eventually hit the main east-west highway.
So south I went until I reached the San Jose suburb of Heredia. The highway disappeared, and I found myself in the city, at 5:30pm, on an unknown road, and not knowing how to get out. I knew the highway was to the south, and so I kept the compass pointing as much in that direction as I could while driving through the city streets. With only one small error that put me on a dead-end road, I managed to find my way to Highway 1. East and through San Jose was the quickest route to where I wanted to be, but I knew that I'd never find my way and get hopelessly lost. So I would take the long route: west until I found the way I had originally come across the mountains. And yet somehow I ended up eastbound. This was not a good thing. I really didn't want to get lost in San Jose so I took the first off-ramp I got to. Lucky for me, there were signs ahead telling me where to go. The left lane would loop under the highway so I could get back on heading west. Of course, that meant that I would have to get from the right lane and across four lanes of traffic during rush hour in a country where lines are suggestions and cars fill every available void like sand. And I only had about a quarter mile to do it in. I fought my way across the road, sticking my car in any available slot. Even when I finally made it to the left lane some joker tried to squeeze past me on the left shoulder which would block my left turn. I DON'T THINK SO!!! I cut in front of him – there may have been a horn involved – and soon I had looped around and was heading west.
I survived rush hour in the capitol of Costa Rica on a Friday evening. Now I was cruising along westbound, looking for a little road that would cut south and connect with the highway leading back home. It was getting dark, so I chose instead to stick with the Google map printout and go about 30 miles west to Orotina, where the highway I was on would merge with the other. It was a long way off course, but I love to drive, the city traffic was gone, and I was having a good time. Eventually the roads met, I turned east, and found the road up into the mountains. It was as far as I could go using the paper map so I dumped my GPS track onto my netbook, zoomed in on the line, and kept my pointer on it without regard for signs. I made it home at around 10pm. Friday was the perfect day!
Preparing to Go Home
I slept in on Saturday and spent most of the day hanging around the house. That was fine by me. The possibility of an overnight trip somewhere was lost days ago, so I just stayed and visited with family. On Sunday, Oscar and I went to visit my cousin and family back in San Jose. We spent the afternoon there visiting with as many in my family who could make it. The original plan was that I'd stay there for a few days, but my mom had to get re-checked on Monday to see if she would be able to fly out on Tuesday. The doctor was in the mountains, so after a day of visiting, back up the hill we went.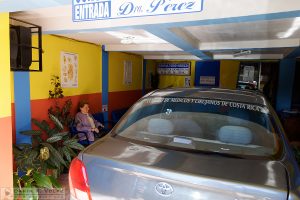 On Monday, I was stressed. We were supposed to be on a plane the next morning at 9am, and I didn't know if we were going to be. We sat in the doctor's waiting room and, well, waited. It was much like any other waiting room except for the car parked in the middle of it. Yes, it doubled as the doctor's garage. Soon we went into the office and spent a long time with the doctor as he checked her out. He decided that the hematoma was gone, or at least not a concern anymore, and we would be able to fly out in the morning. That was a huge relief! From there we went to the city to check on the teeth. We weren't going anywhere unless they were done, and lo and behold they were. Terrific! Again to look on the bright side, my mom got herself a great new set of teeth at an incredibly low price. All was good.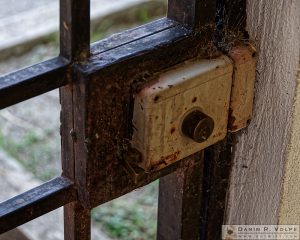 It had been a long nine days and I was ready to go back home. Tuesday morning finally came and we got on the plane from San Jose to Dallas, where we would go through customs before our final flight to California. My Costa Rica adventure was over…or was it? In her travels, my mom had picked up an orchid from a botanical garden. She had been given a certificate that would allow her to bring it into the United States so we had to declare it in Dallas. Useful information: If you have a plant on you, you're automatically moved out of the fast lane and go into the long and winding line. We didn't have anything else better to do and had plenty of layover time, so we shuffled along in the slow-moving line. Two hours later we got to the customs counter where they opened up and rummaged though the suitcases. The customer officer asked for the orchid's paperwork. Paperwork that was left behind in Costa Rica. After everything, my mom got her plant confiscated by customs.
We left Dallas at 7pm and managed to get to California with no hijackings or plane crashes. My Costa Rica adventure had come to an end – thank God!
Use the

icon on the map below to view the GPS track for each day.